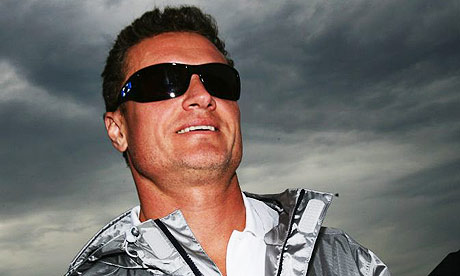 David Marshall Coulthard, often called DC, (born 27 March 1971 in Dumfries and raised nearby in Twynholm) is a Scottish former Formula One racing driver.

Coulthard made his Formula One debut in 1994 and won 13 Grands Prix in a career spanning 15 seasons. Twice a winner in Monaco, Coulthard was team-mate to Mika Häkkinen in the Finn's two Drivers' Championship winning seasons for McLaren Mercedes before helping establish the Red Bull team.

Coulthard amassed a notable points haul placing him seventh on the all-time scorers list, being the top British scorer. His best Drivers' Championship finish was second in 2001.

Coulthard is now a pundit for the BBC Formula One TV coverage, while also being a team consultant for Red Bull Racing and Scuderia Toro Rosso.

Coulthard has confirmed that he will be returning as an active driver in the DTM series for 2010, having recently tested for Mercedes-Benz.

Source : WIkipedia.com