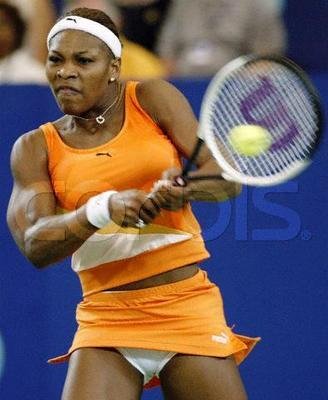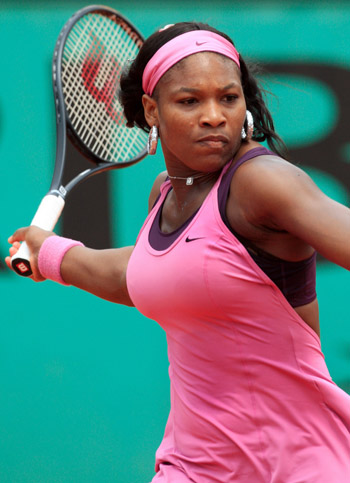 Serena Jameka Williams (born September 26, 1981) is an American professional tennis player and current World Number 1. She has been ranked World Number 1 by the Women's Tennis Association (WTA) on five separate occasions. She regained this ranking for the fifth time in her career on the 2 November 2009. She is the reigning champion in both singles and women's doubles at the Australian Open and Wimbledon and in doubles at the US Open. In total, she has won 23 Grand Slam titles: 11 in singles, ten in women's doubles and two in mixed doubles. In addition, she has won two Olympic gold medals in women's doubles. She also has won more Grand Slam titles than any other active female player and has won more career prize money than any other female athlete in history. In 2005, Tennis Magazine ranked her as the 17th-best player in 40 years.

Williams reached the top ten on the WTA world rankings for the first time in 1999 when she won several tournaments, including her first Grand Slam victory at the US Open at the age of 17. Between 2002 and 2003, Williams won five of the six Grand Slam events she entered, becoming the fifth woman in history to hold all four Grand Slam titles simultaneously. She became the World Number 1 for the first time in July 2002.

Williams' domination of the sport came to an abrupt end in mid-2003 when she had surgery to repair a partial tear in a knee tendon. Upon her return to the sport in 2004, her results were noticeably less consistent than previously. In early 2005, she won her first Grand Slam title in 18 months at the Australian Open, but a string of injuries then limited her to competing in just 13 events in the two years that followed, winning none of them. Her standing in the world rankings suffered as a result, the nadir being World Number 140 in July 2006, leading to widespread speculation that she had passed her peak. Williams, however, eventually won another Grand Slam title at the Australian Open in 2007, despite being ranked World Number 81 at the time. Williams returned to the top ten later that year and has since competed in every Grand Slam event. She became the World Number 1 for the first time in five years in September 2008.

Williams is the younger sister of fellow former World Number 1 professional female tennis player Venus Williams. The sisters have played each other in 23 professional matches dating back to 1998, with Serena winning 13 matches played between them as of October 2009. Their meeting in the final of the 2001 US Open was the first Grand Slam final contested by two sisters in the open era. As of July 2009, they have met in eight Grand Slam finals, with Serena winning six of those. Between the 2002 French Open and the 2003 Australian Open, the sisters met in all four Grand Slam finals, the first time in the open era that the same two players had contested four consecutive Grand Slam finals. The pair regularly team to play doubles, proving highly successful, having won 10 Grand Slam titles together.

Source : Wikipedia.com