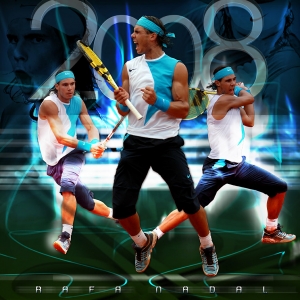 Rafael Nadal Parera (born June 3, 1986) is a Spanish professional tennis player who has been ranked World No. 1 since August 18, 2008. He has won six Grand Slam singles titles and the 2008 Olympic gold medal in singles. He has captured the last four French Open singles titles, joining Björn Borg in 2008 as the only other man to have won four consecutive singles titles there. In 2008, Nadal became the second Spanish man to win Wimbledon. Nadal is only the third male player in the open era to have won the French Open and Wimbledon in the same year, and the first since 1980 (Borg). In 2009, Nadal became the first Spaniard to win the Australian Open

Since 2004, Nadal has had a storied rivalry with Roger Federer, which many consider to be among the greatest in tennis history. They are the only men in the open era who have played each other in seven Grand Slam finals, with Nadal winning five of those matches. Nadal was ranked World No. 2 behind Federer for a record 160 weeks before earning the top spot. Nadal has won 13 of their 19 singles matches, as well as all five of their most recent encounters.

Nadal has been especially successful on clay courts. He has a 25–1 record in clay court tournament finals and is undefeated in 45 best-of-five-set matches on clay. In each of the last four years, he has won both the French Open and two clay court Masters Series tournaments. He also owns the longest single-surface winning streak by a man in the open era, having won 81 consecutive matches on clay from April 2005 to May 2007. As a result, some tennis critics and top players already regard him as the greatest clay-court player of all time.

On August 18, 2008, for the first time ever Nadal clinched the year-end World No. 1 ranking for 2008. The same year, he was given the prestigious Prince of Asturias Award for his achievements in sports.

BY : Wikipedia.com